A cost-effective and environmentally friendly flotation system for cleaning difficult-to-treat industrial wastewater.
The MicroGas™ generator is a cost-efficient and robust flotation system to maximize the removal of suspended matter, fats and oils regardless of pH, temperature or salinity. The MicroGas™ generator was originally designed as a simplified and low OPEX alternative to a DAF and is suitable for many applications including water and wastewater treatment.
Innovative and cost-efficient technology
The new technology is based on ceramic discs that are mounted on a rotating shaft. Compressed air/gas is injected into the shaft at 1-2 bar and enters the liquid through the discs, creating a cloud of micro-bubbles (50 – 70 microns). These micro-bubbles are generated with extremely low energy consumption.
Unlike DAF systems, no pressure is required to dissolve the gas in the liquid, so energy consumption does not depend on the salinity and temperature of the water. In addition, the MicroGas™ flotation systems does not require a saturation tank, recycling pumps or nozzles, which makes it also more reliable and cost-efficient.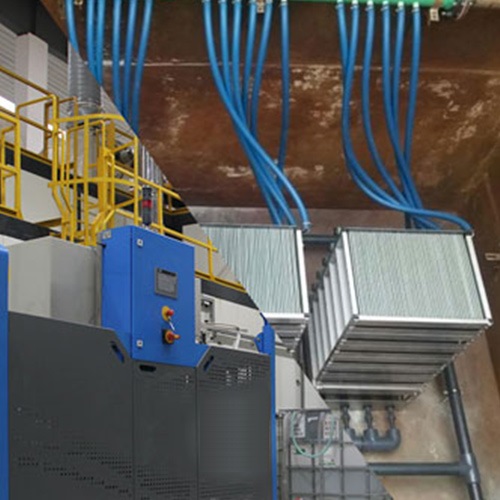 Industrial wastewater treatment
The main advantages of using the MicroGas™ generator for the treatment of industrial wastewater:
Adapting and innovating DAF / wastewater treatment plants
Water treatment to remove fats and oils
Ozone formation / Oxidation
Membrane bioreactors / Sequencing Batch Reactor
Harvesting algae
Removing oil within the metalworking industry
Hydroponics and fisheries
Air column reactors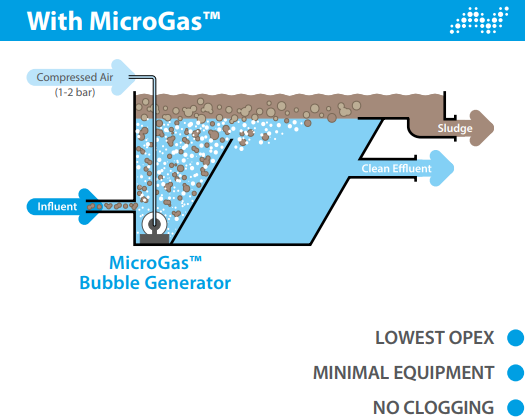 More information about the MicroGas™ generator?
Feel free to contact us via the number below or use the contact form.