Maximum heat transfer, lower energy consumption
Continuous cleaning means 100% heat transfer
With the ATCS system, lime, salts, biological pollution, but also the deposit of sediment and mussels in pipes of heat exchangers and condensers, are prevented.
The operation of the ATCS system is remarkably simple and at the same time very effective. The
cleaning balls are frequently (4 to 6 x per hour) "injected" into the main cooling water stream. The balls behave like water and are therefore evenly distributed over all tubes of the exchanger. Due to the high frequency, unwanted contamination does not get the chance to adhere to the inside of the tube.
The unique pump position and static collection unit not only extend the life of the cleaning balls, but also prevent them from escaping undesired into your cooling water system.
Sustainability and water reuse
RWB develops sustainable solutions in the field of (cooling) water treatment and reuse of (cooling)water. This ATCS system is not unique in terms of operation, but in terms of implementation it has been further developed, which has further increased reliability and at the same time reduced operational costs.
Reduced energy consumption
Unlike periodic cleaning, where the heat transfer gradually decreases, the ATCS system ensures that the tubes remain clean. This guarantees maximum heat transfer, which will significantly reduce the energy consumption of your cooling installation.
The system is fully automatic and operates while the heat exchangers are operational. As a result, there is no down time (periodic maintenance) and no supervision or labour is required.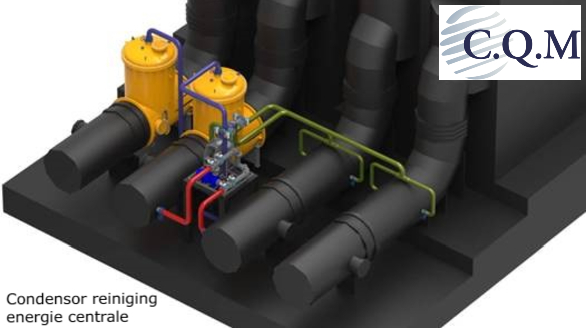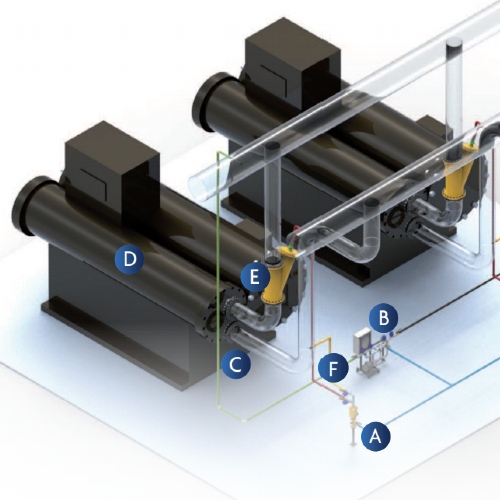 A The balls start in a collector connected to the heat exchanger via the main pipe of the system.
B A pump periodically injects all the balls through the inlet pipe. After injection, the normal water flow from the heat exchanger feeds the balls through the system.
C The balls go from the main line to the heat exchanger, where they are randomly distributed over the condenser tubes.
D If the balls are pushed through the tubes, they clean deposits and accumulations before deposits can form.
E When the balls leave the condenser, they are collected in a static collection unit.
F After flowing through to the collector, the balls are rinsed clean by circulating system water. The collector holds the balls until the next cycle.
Standard installation configuration
The ATCS system is very simple and consists of a pump, a ball collector and a ball collection unit. The ATCS system is mounted on a frame and controlled via a PLC (possibility for remote monitoring / support). This makes the system very easy to integrate into existing processes.
ATCS systems are standard available from DN50 to DN450, larger diameters are possible on request.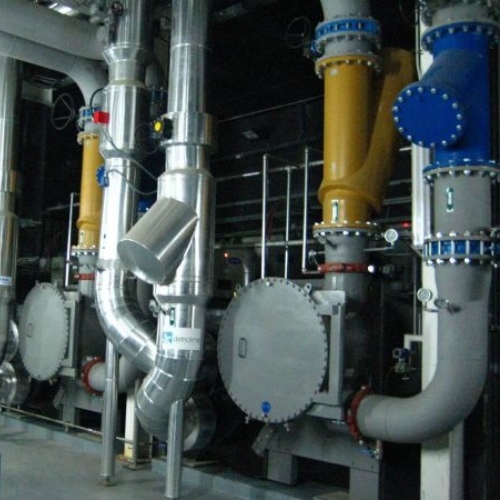 More information about sustainable continuous cleaning of heat exchangers?
Feel free to contact us via the number below or use the contact form.