Our added value is shown particular in projects where more is required than construction according to the standard specifications.
Reducing energy consumption and making the sector more sustainable
Sewage water treatment or waste water treatment (WWTP)
In a waste water treatment plant, waste water is treated before it is returned to the surface water (rivers and streams). The waste water is "produced" by all households and the industry. In addition, rain water is drained off from paved surfaces via the waste water sewer system.
In the Netherlands there are 352 sewage treatment plants, managed by 21 water boards. The water boards are responsible for municipal waste water treatment, which will is collected via the public waste water sewer system.
Water boards are continuously optimizing processes in order to contribute to a sustainable sector. This requires a wide range of activities and a good cooperation with technical parties within the water sector. The focus is on reducing energy consumption and on a strict climate policy.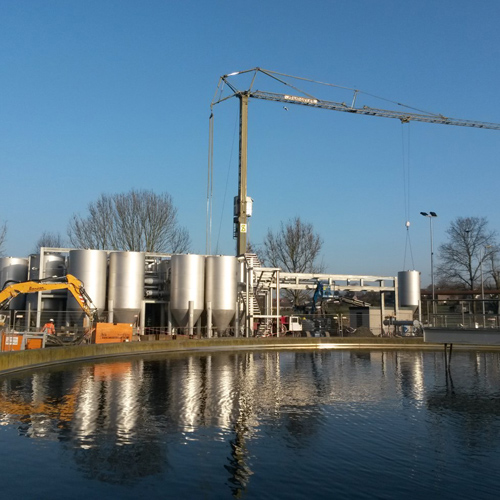 Raw materials from waste water
The recovery of energy and raw materials has taken a huge step. At a number of locations biogas is produced from sludge from the sewage treatment plant and converted into green electricity.
Sometimes the challenge lies in the water to be treated, sometimes in the small footprint or in reducing energy and/or chemical consumption. RWB uses both conventional and new techniques for this purpose, in which functionality is always the key-factor.
An optimization study by the Rivierenland Water Board showed that it is technically more advantageous to close wwtp Nieuw Lekkerland and to pump the waste water to wwtp Alblasserdam.
This project was given to RWB by means of a Best Value Procurement. This methodology aims to award the contract to the tenderer who has demonstrated his ability to minimize risks and to make best use of the opportunities.
Water Board Rivierenland
Get in contact with us
This is why you choose RWB
Do you want to make your wastewater treatment more sustainable?
More information about our activities within the municipal waste water sector? Feel free to contact us via the number below or use the contact form.