Robust, reliable and a proven technology to generate bio-energy, fertilizer and water.
A complete solution for the manure and digestate problem
Phosphate regulations and mandatory manure treatment
An excess of manure on (agricultural) land leads to contaminated soil. In order to prevent this, the European Union has introduced a phosphate limit and regulations concerning compulsory manure and digestate processing. In order to comply with the processing obligation and to make optimal use of the value of manure, RWB offers a total solution to treat manure and digestate.
Separating manure and digestate
Excess manure, with high concentrations of nitrogen and phosphate, leads to contaminated soil. EU legislation on mandatory processing is in place to prevent pollution. Fermented manure, a waste in the production of biogas, is called digestate. Digestate and manure consists of water, organisms and valuable minerals. To obtain these minerals, the manure or digestate must be processed.
As a first action, the substance is separated by a screw press in a thick fraction and in a liquid fraction. The screw press has a phosphate separation efficiency of >90%. The thick fraction has a dry matter content of 25%.
For the treatment of the thick fraction, RWB offers several options. A common method is to heat the thick fraction. This is happens under a certain temperature and for a certain period of time. During this process, unwanted bacteria are killed.
Another option is to pelletize the thick fraction. By means of a high-temperature drying installation, in combination with steam, the thick fraction is dried to >90% dry matter so that it can be processed into bio-energy pellets (fuel) or fertilizer pellets.
As a third option, we offer the possibility of converting the thick fraction into phosphate ash. After drying the thick fraction by means of a belt dryer, the thick fraction is burned to ash. This ash contains a large amount of phosphate.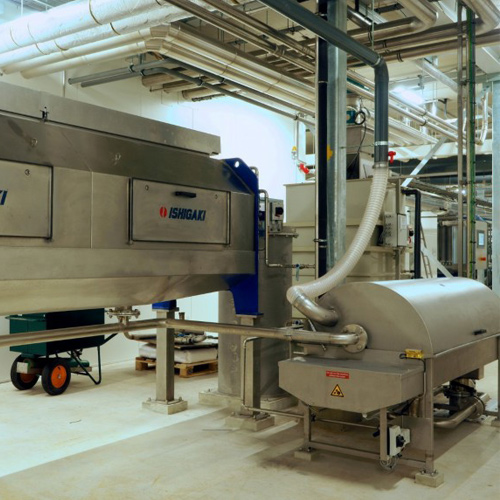 Treatment of the liquid fraction
Unique within the total concept of manure processing is the pre-filtration with ceramic membranes. This leads to a more efficient reverse osmosis and Ion exchange process as the last purification step in the chain. The use of ceramic membranes ensures a maximum volume in discharged water.
In order to extract all valuable fertilizers from the ceramic membrane filtrate, a reverse osmosis installation is used. This last stage of purification produces dischargeable water and a high concentration of minerals (N and K).
An ammonia stripper is used to separate the nitrogen from the mineral concentrate. This results in a nitrogen-rich fertilizer (ammonium sulphate >30%). A vacuum evaporator is used as the last process step to produce a concentration of valuable fertilizer in the form of potash (k2O >12%).
The manure and digestate treatment of RWB has already proven itself in various installations. RWB carries out the design as well as the execution and commissioning. We have all disciplines in-house and all the key components are from RWB's own delivery package.
Reduce the volume of digestate, recover valuable organic residues and recover minerals in a concentrated form.
"The RWB digestate treatment plant has already proven its worth for 7 years. RWB carried out the design as well as the execution and commissioning. In addition, the key components of the installation come from RWB's own delivery package, which means that we can always contact RWB for any maintenance questions."
Dankers Bio Energy
Get in contact with us
This is why you choose RWB
Also treat manure or digestate?
More information about our activities in the manure and digestate treatment sector? Feel free to contact us via the number below or use the contact form.