Culligan's ultrafiltration systems
The membrane technology for removal of suspended and colloidal particles from water is ultrafiltration.
Suspended substances, turbidity and micro-organisms can be removed outstandingly with the help of micro- or ultrafiltration. Both techniques are therefore frequently used as pre-treatment technologies for reverse osmosis and present an alternative to more traditional water treatment techniques such as sand filtration.
filtration (UF) is a process of separation underpressure, able to separate insoluble particles form the water.
Ultrafiltration systems are ideal for Ground water and surface water treatment, as well as Seawater desalination pretreatment applications.
Using robust outside-in PVDF fiber technology the hollow fiber membranes benefit from high clean-ability, low chemical consumption, high recovery, and a superior combination of mechanical properties and chemical resistance.
Culligan ULF Series ultrafiltration systems (flow ratio from 3 till 54 m³/hour)
The Culligan ULF line operates in Dead End filtration mode, filtering 100% of the suction water. Through the underside of the membrane, the water flow is filtered and brought back to the product side. A direct filtration system is generally used for water with maximum values up to 100 NTU.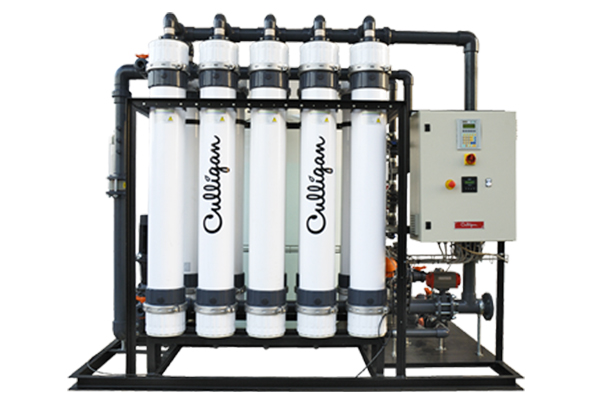 More information about ultrafiltration?
Feel free to contact us via the number below or use the contact form.